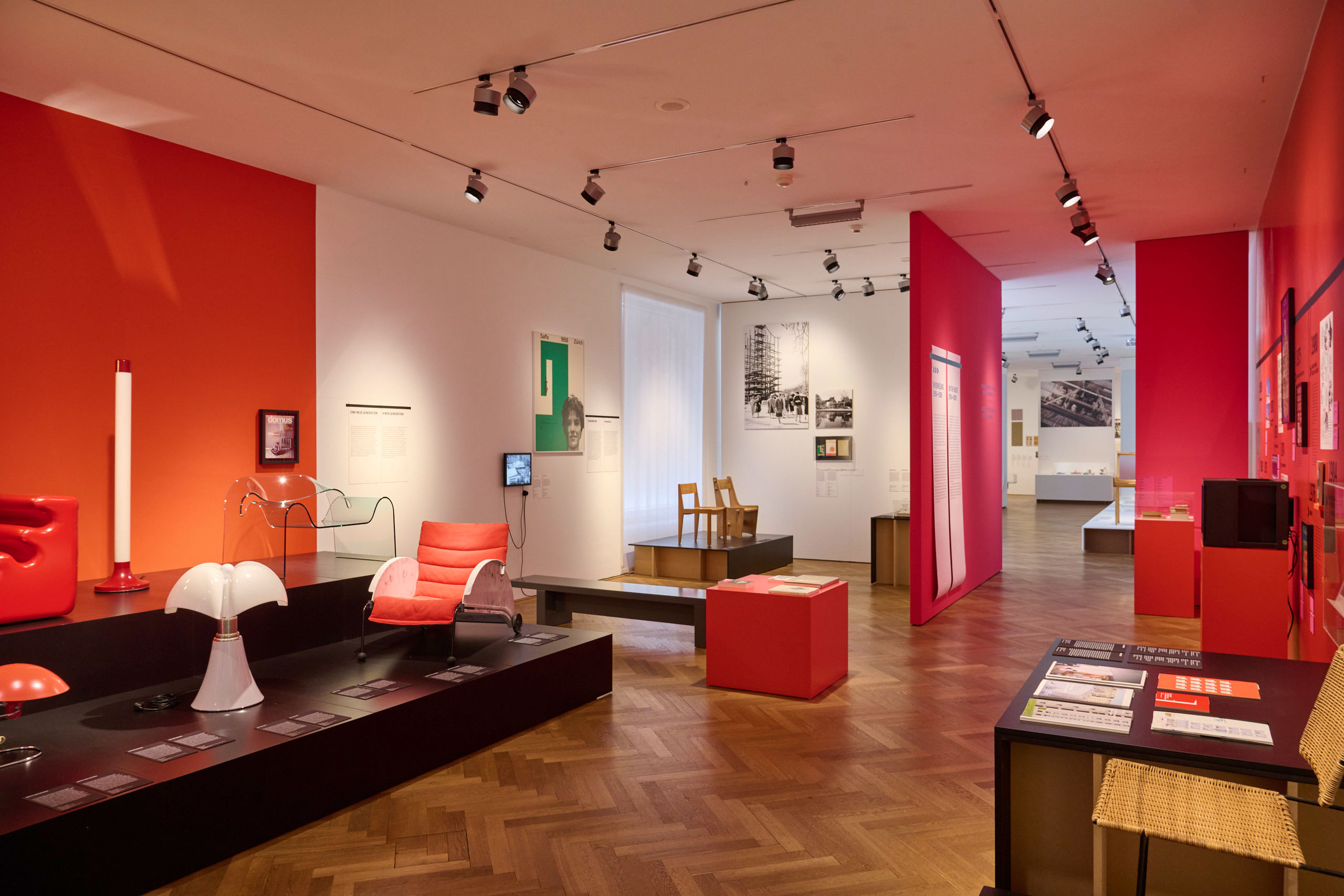 With exhibits and projects by:
Reform and Revolution 1900 – 1930
Jane Addams/UK, Marianne Brandt/DE, Louise Brigham/US, Klara Fehrlin/CH, Bertha Günther/Lichtbildwerkstatt Loheland/DE, Louise Langgaard/Töpferei Loheland/DE, Ljubow Popowa/RU, Warwara Fjordorowna Stepanova/RU, Lux Guyer/CH, Gertrud Kleinhempel/DE, Alma Siedhoff-Buscher/DE, Warwara Fjordorowna Stepanova/RU, Gunta Stölzl/DE/CH, Edith Sutor/Töpferei Loheland/DE
Female Pioneers of the Modern Movement 1920 – 1950
Aino Aalto/FI, Ray Eames/US, Eileen Gray/FR, Florence Knoll/US, Charlotte Perriand/FR, Trude Petri/DE, Clara Porset/CU/MX, Lilly Reich/DE, Flora Steiger-Crawford/CH, Eva Zeisel/HU/US
On the Move 1950 – 2000
Gae Aulenti/IT, Galina Balaschowa/RU, Rosmarie und Rico Baltensweiler/CH, Liisi Beckmann/FI, Susi und Ueli Berger/CH, Cini Boeri/IT, Sheila Levrant de Bretteville/US, Anna Castelli Ferrieri/IT, Johanna Dahm/CH, Nanna Ditzel/DK, Elisabeth Feller/Feller AG/CH, Carmen Greutmann Bolzern/CH, Helene Haeusler/DD, Trix & Robert Haussmann/CH, Margarete Jahny/DDR, Rei Kawakubo/JP, Sandra Kuratle/AMOK/CH, Verena Huber/CH, Martha Huber-Villiger/CH, Grete Jalk/DK, Doris Lehni Quarella/Lehni AG/CH, Margrit Linck/CH, Greta Magnusson/SE/US, Matrix Architecture Collective/UK, Greta von Nessen/SE, Libuše Niklová/CS, Nathalie Du Pasquier/FR, Berta Rahm/CH, Annika Rimala/Marimekko/FI, Martha Rosler/US, Nelly Rudin/CH, Tatiana Samoilova/RU, Enid June Seeney/UK, See Red Women's Workshop/UK, Reiko Tanabe/JP, Thema Selection/CH, Massimo & Lella Vignelli/IT/US, Nanda Vigo/IT, Herta-Maria Witzemann/DE
The Bigger Picture 2000 – Today
5am Games/CH, Atelier NL/NL, Marjan van Aubel/NL, Birsel + Seck/US, BLESS eine GmbH/DE, Matali Crasset/FR, Ilse Crawford/Studioilse/UK, Annette Douglas Textiles AG/CH, finally./CH, Front/SE, Futuress/international, Catharina Grözinger/DE, Gunjan Gupta/IN, Hahn+Zimmermann/CH, Sarah Harbarth/Kuori/CH, Larissa Holaschke/Gender Salon/CH, Hyphen-Labs/UK/US/ES, Hella Jongerius and Louise Schouwenberg/NL, OAZA/HR, Barbara Kruger/US, Julia Lohmann/DE/FI, Matri-Archi(tecture)/CH/international, Christien Meindertsma/NL, Selina Reiterer and Oliver Maclott/CH, Philomena Schwab/Stray Fawn Studios/CH, Inga Sempé/FR, Nao Tamura/JP/US, Sissel Tolaas/NO, Faye Toogood/UK, Zoë Urand and Roman Engler/Flink/CH, Patricia Urquiola/ES/IT, Völlm + Walthert/CH, Meret Wacker/CH, Paulina Zybinska/CH
An exhibition by / With extensions from / Global Sponsor / Funded by






Information for media professionals

Media information files and high-resolution media images are available for download. Impressions of each exhibition are released after the official opening.
We are happy to send you a specimen copy or a link to coverage of our exhibitions on request.
If you have any particular questions about the exhibition, require additional material or are looking for the right people to interview, please contact Media Relations for more information.
Media information is available in German only.
Impressions of the exhibition